RE: Wake up on pick-up
In my M5Stack Grey the two ICs (MPU6886 and BMM150) are on a small daughter board which was soldered to the underside of the Groove connector (GND, 5V, SDA, SCK). An additional pin provides 3.3V for the two ICs. But I am afraid the interrupt line coming out of the MPU6886 is not connected at all.
Please note: My M5Stack Grey board reads 2018.3, so maybe the daughter board was merged with the main board in later revisions?
Felix
Desoldered daughter board: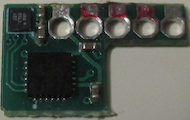 posted in M5 Stick/StickC